Adabiafra

Posts

:

130




Posts Like

:

37



Below, is a message which a yoruba guy posted on Nairaland.com
This is to appeal to every southerners that our future is in our hands. A united south is what we need now to stand against northern oppression and divide and rule tactics. We must ensure we work together to restore power to the south by 2019. The north obviously has a grand plan of retaining power for so long and this is obvious in the way Tinubu is been put in check so as to limit his influence in the party decisions and made irrelevant in the scheme of things. We never expected such treatment from the north after all we did to support Buhari in the last election. Oyegun is obviously been used to fight a proxy war with Tinubu by the born to rule caliphate up north who will do anything to render his power bloc handicap so as to ensure their grip on power. We need the support our SS/SE brothers to make this happen. Lets us unite and forget all grievances. A united south can wrestle power away from the north with the support of Christian minorities in the middle belt and the north. GEJ was a bad president contrary to our thoughts in 2011 when we supported him massively with our votes. He failed woefully and corruption thrived to the highest heavens during his tenure. Contrary to the believe of our SS/SE brothers, yoruba's did not vote Jonathan out because of hatred or betrayal. He simply under-performed and did nothing for the SW region and even boasted that Igbo's are the backbone of his presidency forgetting that the SW supported him massively in 2011. Buhari appeared to be the messiah but so far, the hardship in the land is so unbearable and there is no end in sight to the present predicaments facing us as a nation. Buhari has no economic blueprint and his style of governance is archiac and filled with bad policies like banning forex for importation of consumer goods and releasing the same scarce forex for Islamic religious pilgrimage. It's a bad situation we are in and we need to co-operate to undo this mistake in 2019. Every one is facing hardship and bearing the brunt of inflation and recession irrespective of our tribes and regions. This is why we need the support of our SS/SE brothers in 2019 to vote buhari out. Let's form an alliance and forget past mis-deeds. We are better united in the south than been ruled by a primitive caliphate who believed they are born to rule without positive results....



God bless SW /SS and SE


My opinion is why would the south west remember South East and South South? The Yorubas called Igbos slave, they said the Igbos served North and Served u them. Why are looking for their support now?
I know, Just because their oga Tinubu is been packaged into a cooler... Hahahahhahahahah
This is why I always say, guard your tongue and at all cost be trusted because your bestfriend today may be your worst enemy tomorrow. And when your goodluck shines today you run your mouth carelessly, it may hunt you in the future.
The Yorubas have insulted the whole of South/South and South/East even more than the Awusas'
So, if they want to be the President they should fight their way out.
Besides, The North may succeeded in their divide and rule...
See The Replies of Some Brave Biafrans.....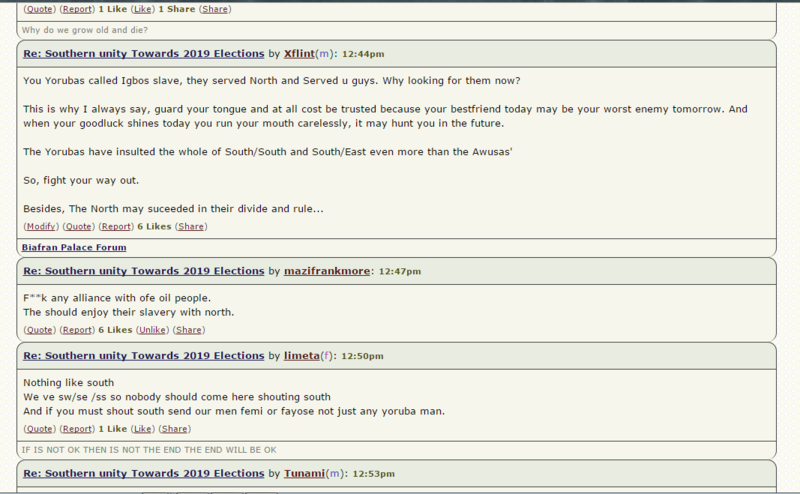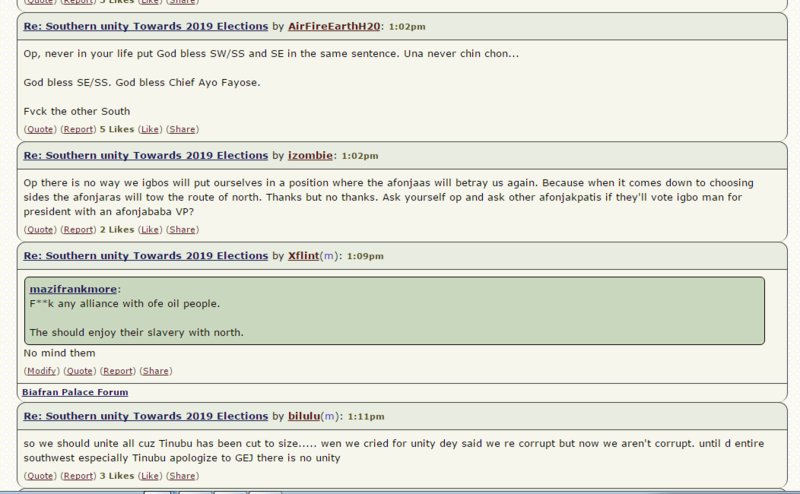 Ojukwu1

Posts

:

102




Posts Like

:

14



Xflint

Posts

:

37




Posts Like

:

9



I have already told the guy that there is no way SE and SS are ganna work with them.
Adabiafra

Posts

:

130




Posts Like

:

37



Tinubu has finally went back to his slave masters.............
hahahahhahhahahhah
Create an account or log in to leave a reply
You need to be a member in order to leave a reply.
Log in
Already have an account? No problem, log in here.
Log in
New topics in same category
---
Permissions in this forum:
You
cannot
reply to topics in this forum